Our Grand Opening has been moved to Monday March 2nd and Tuesday March 3rd! Hope to see everyone!
We will give away a FREE fat quarter to Everyone, a FREE quilt charm with purchase of $20 or more (while they last) and you can enter to win one of 67 Prizes!! (32 Gift Certificates and 35 Coupons) Check out our MOVING PAGE for all the info!
Starting February 25th come see us at 3500 N. Gretna Road!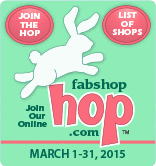 The Bunny is busy checking out where we are moving!
Quilts & Quilts The Fabric Shoppe is your fabric headquarters in Branson, MO. We have over 15,000 bolts of fabric! We still have 2,500+ patterns, books, stencils, notions, and more! And samples........we have tons of samples made up so you can see what your project will look like when it is finished. It is like a quilt show everyday!
We have a lot of our fabric panels online, but to see the full selection of over 15,000+ fabrics you will have to visit us in Branson, MO! Looking for a certain piece? Send us a swatch or e-mail us a picture and we will mail it to you if we have it!
Let us know if we can help you with anything-we are just a phone call or an e-mail away.
E-mail us at quiltsandquilts@centurytel.net
or call us 417-334-3243